Meet The Owner: Esther Davis
Esther Davis is very passionate about Little Giant Beekeeper's impact in the community, and the role that her and the other beekeepers play.
There's no better way of learning about the business you will receive, then learning about the owner herself. Get to know Esther and her experience and knowledge that sets her company apart from the rest.
Can you tell us a little about your childhood and where you grew up?
I remember when my parents first became beekeepers. They were very entrepreneurial and never did anything 1/2 way.  So, before we knew it, my mom's desire of getting one beehive quickly turned into 200 hives… it was more expensive to buy the supers and Frames (beehive boxes) already assembled, so my parents ordered all necessary supplies (individual pieces) in bulk.
As a child, I remember the huge orders of bee supplies that would arrive on our doorstep and needed to be assembled piece by piece with the tiniest little nails…. My parents got the whole family involved, building each frame, then inserting the wax sheet. Building and then painting all the honey supers. I think we kind of hated it at first but then we got a little system going and with teamwork knocked it out quickly.  
We had so much honey!!  Friends, neighbors, customers all wanted and loved it so much.  As a kid I thought it was so weird and that people were probably just trying to be nice. Now as an adult, it's a little treasure to extract my own honey and have a part in a business that my parents nurtured and grew.  
I love keeping my parent's legacy going. We still have customers call us after 25-30 years, who still have my dad's business card and speak of him fondly.  He loved helping people and did it all the time, just for the love of service. He was all about service.  He did pro bono work all the time, especially elderly widows on fixed incomes.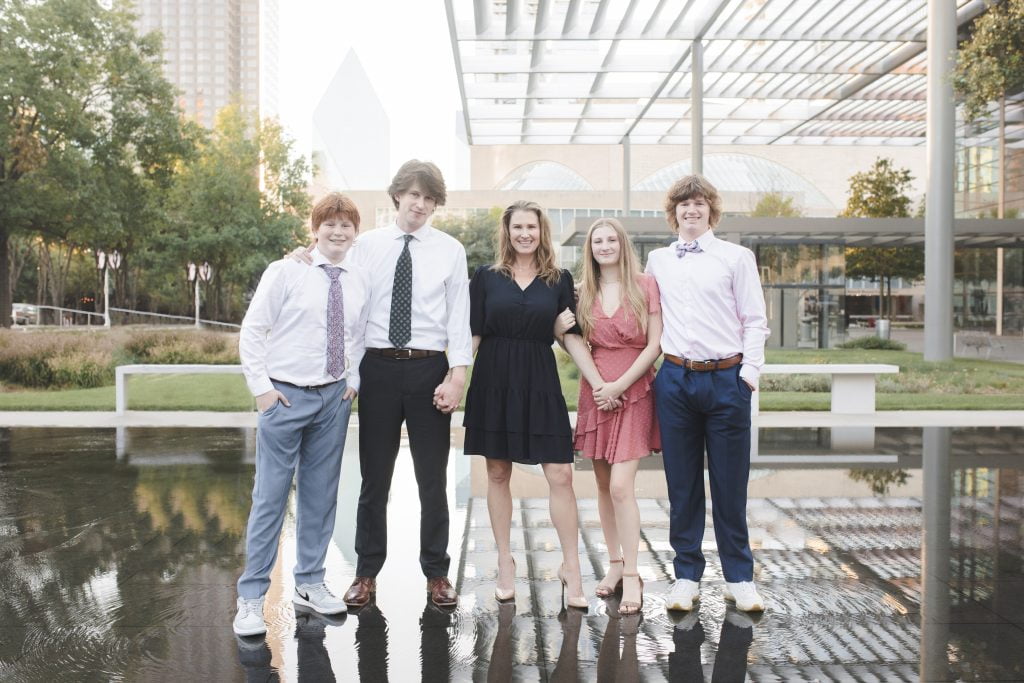 What are some of the most interesting or memorable moments growing up in the beekeeping business?
Growing up in the biz… as a kid, I remember helping my parents with everything from assembling and painting all the beehives, helping my dad smoke the bees while he checked on all his hives, extracting and bottling honey.  Extracting the bees was a huge job and definitely a family affair. 
As their business grew, I remember going with my parent's on bee jobs, capturing swarms, occasionally helping with hive removals, answering bee calls and selling jobs, filing paperwork in the office, etc…. In a family business there's always something to do. 
We also regularly attended local, state, and national beekeeping club meetings, where I eventually served as a Honey Queen for..the bee clubs. I served as the 1993 Collin County Honey Queen, 1994 Texas Honey Queen, and the 1995 American Honey Queen for the American Beekeeping Federation. This was a unique opportunity to serve both the beekeeping and honey industries, traveling around the counties, state and country, educating people about the importance of honeybees.
During my travels around the US, I presented at countless elementary schools, visited hospitals, attended fairs, festivals, conventions, and worked with The National Honey Board promoting the Honey Industry.
I have so many favorite memories of this time but one of the highlights was having the privilege of working with local beekeepers all over the country. From California to Florida and even Alaska I believe beekeepers are literal salt of the earth. In my opinion, beekeepers are some of the best and most interesting people on the planet. They are often characters who are down to earth, grounded, and love giving back to their community.
Did you always know you wanted to work in the bee removal industry? If not, how did you get started in this field?
After I graduated from Richardson HS, I attended community college between honey queen tours. Then, I moved to Phx Arizona to attend ASU, where I graduated with a communication degree. I fell in love with AZ, even married and started a family out there. After my dad died, I brought my family back to TX to help again with the business. In 2008, my mom was ready to semi-retire and handed over the reins to me. I had never planned on running the family business and at the time was pregnant with my 4th child. I was soon juggling the business along with 4 kids under 7. It was a lot to manage, and I had a lot to learn.  
I grew up in the beekeeping business… guess it's in my blood….
It's been 15 years since I took over the business, with the goal of preserving my father's legacy of helping people, providing excellent customer service, and having a company founded on old school integrity.  
What do you enjoy most about working in the bee removal industry?
I've always loved the honey and beekeeping industries…. People are fascinated with bees and we love educating people about all their benefits as well as assuaging any fears or misconceptions people have about honeybees.
How do you approach bee removal in a way that is both safe and environmentally conscious?
We've been doing this for a long time, over 40 Years. We know we can't save every bee, but do try to relocate as many hives and swarms as possible each year and only exterminate them when necessary.  We've always felt it's important to give our customers all the options and let them choose which one fits their needs and their budgets best.
What are some of the biggest CHALLENGES you face in running a successful bee removal business? How has the bee removal industry evolved since you first started in this field?
There was a time when we were the only company in Dallas to offer these services. There's a lot more competition now, but not everyone offers the same type of quality or ethical work. We get dozens of calls a year from customers asking for help to fix another removal company's botched job. We're always happy to help and warranty our work and even the work done by customers themselves.
What sets Little Giant Beekeepers apart from other bee removal companies in the industry?
MY Parents 
Neither of my parents went to college but were hard working and had a common goal that they wanted to build a business and leave something for their children.
My parents were amazing partners in life and business and their examples instilled in me are priceless…strong values, desire to help others. 
My dad always said, we would have nothing without my mom. She was hard working, a visionary heart and soul. My mom, Louise Wright, was the heart of all of their achievements/success– she started every business.
In addition, we've been blessed with the most amazing, loyal, and dedicated team that truly functions as a family. Our people not only take special care of our customers, but also work hard to support each other.  I think the secret of our success is that each member of our team mirrors our company's core values and desires to work for a company who holds high standards for themselves and others.
We work hard and take our job seriously to provide excellent customer service and fair, competitive pricing 100% of the time.  We won't take short cuts or compromise our standards. 
We also have a lot of fun together and truly enjoy one another.  We love to celebrate the wins in our lives, both personally and professionally, as well as offer support during the challenging trials.
I feel it's important to continue my parent's legacy of providing the same high standards they established for providing both excellent customer service and high quality workmanship. Integrity is at the center of who we are and what we stand by.
How does your work at Little Giant Beekeepers contribute to the larger community or ecosystem?
Our beekeepers get to be hero's every single day.  We make people's day and even save lives when it comes to removing aggressive beehives, yellow jackets or wasp nests. 
We've been doing this a long time and know we can't save every bee, but we try. We pride ourselves in offering an affordable service and peace of mind, delivered with a warm smile, a friendly greeting and excellent workmanship.
What do you think the future of the bee removal industry looks like?
Live Bee Removals… saving more bees
How do you balance running a successful business with your personal life?
It's tricky… for most working single mothers.  Spending time with my family continues to be my top priority, so I must be deliberate about scheduling time together. I must take quality over quantity, so I try to be present when we're together…. I have kids out of the house now, but still have a set weekly family dinner where everyone comes together.  It's my favorite day of the week!
Time management is essential.  Making time to have a balanced life can be difficult, especially during peak season…. But, 'm passionate about creating a life that finds balance mentally, physically, emotionally, and financially.  In my spare time I enjoy fitness, spending time with good friends and good food, serving in my church, traveling as often as I can.  I also enjoy making and using all natural serums and scrubs made from honey and other products from the beehive.  
Ethan Davis has been helping out mom with the business since he turned 12 years old.  
He became more involved once he graduated from high school in 2022 until recent when he left in June of 2023 to serve in the US Navy. 
If you are dealing with bee infestations on your property, contact Little Giant Beekeepers today. We relocate bees safely and effectively, to protect you and the environment. Don't deal with these critters on your own. Hire our professional team to get the job done right. Esther and the other beekeepers are more than happy to help you restore safety and gain control of your property again. Give us a call today to schedule an appointment or to get a consultation!