Little Giant Beekeepers specializes in providing wasp removal services in the Dallas-Fort Worth area. We have the experience to safely and effectively remove wasps from any property. Our services include removing the wasps, sealing off any entry points to prevent them from returning, and providing preventative maintenance services to keep them away.
Wasps are predators that eat other bugs and insects. That can be a good thing, you just don't want them in or around your home. If wasps feel threatened or agitated, they will sting. Unlike bees, they have a smooth stinger and can sting multiple times. 
If you get into a situation where many wasps in a nest are disturbed, it can quickly become dangerous. Each time they sting, they inject more venom. If you or a family member is allergic to their venom, you could experience a life-threatening allergic reaction called anaphylaxis. 
Wasp nests can be a nuisance, especially when they are located in hard to reach places. Unfortunately, these nests can be difficult to remove without the help of a professional. In this case, it is best to contact Little Giant Beekeepers. We are equipped with the proper safety equipment and tools to safely and effectively remove wasp nests. We can also provide advice on how to prevent wasp nests from forming in the future. 
Little Giant Beekeepers can access even the most difficult to reach nests. Their specialized tools and techniques allow them to safely and quickly remove the nest and wasps, while keeping the area safe. This is an important service for getting rid of wasp nests, as it prevents the potential for further damage or stinging. It also ensures that the wasps are removed in a humane and environmentally friendly manner.
Wasps love to make a nest in the attic, eaves, chimneys, hose reels, grills, and outdoor outlet boxes. They can make their nests anywhere. Don't hesitate to contact our team!
Identifying a wasp can be a tricky endeavor, as there are many different species of wasps that vary in size, color, and behavior. Generally, wasps have narrow waists and two pairs of wings, and can range in size from 1/2 an inch to 1 1/2 inches long. They are usually yellow, black, or brown in color and have stripes or other markings. 
A wasp's behavior can also be a helpful identifier. Wasps are generally solitary creatures, but they can be seen in large numbers when they are nesting or defending their nests. Wasps also have a tendency to sting, so if you are close enough to observe a wasp's behavior, it is important to be cautious and use a safe distance. Take a look at some of the different types of wasp below.
These wasps are typically 1-inch in length and can vary in coloration from reddish to dark brown. Paper wasp nests are constructed from chewed wood fiber. They are commonly found in eaves, garages, sheds, shrubbery, and other protected areas.
These wasps are often mistaken for honey bees. Yellowjackets are similar in size to them (about a half-inch in length). They have black and yellow markings but are hairless.
Yellowjackets prefer to nest in the ground, often taking over old mammal burrows, and are aggressive if disturbed. They also nest in eaves or attics. 
One of the largest wasps in the United States- cicada killers prey on adult cicadas. These wasps can be seen attacking cicadas in the air. They are big and look scary, but are relatively docile unless you are a cicada. They make their nests in the ground.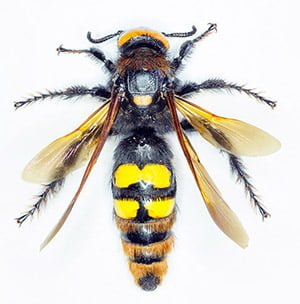 Mud daubers are about three-quarters to 1-inch in length and can vary in coloration between species. Many are black, but others can be black with yellow markings or iridescent blue-black color. They are the least aggressive of the wasps. 
Keep Wasps Away from Your Kids!
As we've mentioned above, wasps can cause a lot of pain and can even cause an allergic reaction in some people. Wasps are attracted to sweet smells and food, so it's not uncommon for them to swarm around kids who are eating or drinking something sweet. Unfortunately, if a wasp feels threatened, it will sting, and it can be very painful. In extreme cases, the sting can cause an allergic reaction. 
If you're dealing with wasps stinging kids, it's important to take action and get wasp removal services. Our team will be able to identify the problem and find a solution to get rid of the wasps. By getting wasp removal services, you can help keep your kids safe and reduce the risk of them being stung.
Tips for Wasp Prevention:
Make sure the shrubs and grass around your home are trimmed regularly. 

Eliminate water sources wasps may be able to drink.

Cap the chimney and fill holes along your rooflines.

Weatherstrip the house so wasps can't sneak inside.

Keep your compost covered.

Keep the trash closed.
Call Little Giant Beekeepers to Get Rid of Wasps
If you have seen a wasp or two on your property, chances are a nest is not far behind. As trained professionals, we know how to treat wasps safely. We provide several different treatments depending on where your wasps are located and how long they have been there. 
Keep your family safe with our Dallas wasp removal services. No wasp species will attack a human unless it's in self-defense, but the last thing you want to do is let wasps get out of control in your backyard. 
Little Giant Beekeepers can help you with wasp control. Contact us today to discuss how we can help you with your wasp problem. Or call 214-227-6881.
Manuel arrived on time and treated the wasps which were starting to take over our yard. He did an excellent job and was so nice to explain all the questions I had asked. He was our hero for the day as the wasps were really aggressive. Please tell him thank you. We will definitely call again. Thanks to everyone with the help and their kindness.
Missy handled my call very professionally. She is very knowledgeable and a real pleasure.Jeff did the work. He did an excellent job in dealing with the wasp problem. He also went the extra step to clean the area. He is the best.
We could not recommend this company enough for removal of hornets and wasps. I'm highly allergic and the peace of mind I have now is worth every dime spent. Thank you for the quick eradication of the nests and kind customer service.
As of 3 days later the bees are gone and the wasp nest removed. very good job. I thought it was a little over priced for 3 hours work.
They explained the process very well and when I got home, the wasps were dead.
Manuel showed up the same day I called, and quickly got rid of a giant nest of yellow jackets. I can enjoy my back yard again. Worth every penny I spent to know my animals and family are safe from the wasp stings. Manuel was very pleasant and respectful.
Our service professional from little giants was Manuel. He gave us good information prior to addressing the issue and also provided reasons why previous attempts from didn't companies didn't work. Once he was complete he followed up with more info, further instructions and was very professional. We appreciate his customer service and for fixing our bee issue. Thank you Manuel!!
These folks are terrific! Missy, who took our call, was a wealth of information and great to talk with. The bees we'd just discovered were unusually aggressive so she scheduled us for the next day. However, we received a call later that evening and they were able to come by - so same day service! Jefferson and Manuel took care of our problem quickly and very professionally. Jefferson is a very interesting guy, funny, and really knows his business. We've used these folks before, to include removal of the hives, honey, and carpentry restoration and they've always done a great job. We highly recommend Little Giant Beekeepers - from your first frantic phone call to removal and completion, these are the people you want to take care of your bees.
First of all, I was impressed at my first phone call for help. Missy, who took the called, suggested two options to possibly handle the problem. She suggested the lower cost one as it "usually solves the problem." It was rare and a genuine pleasure to get helpful advice rather than high cost suggestions right at the start. The service agent, Manuel, arrived as anticipated and did a very thorough job applying a powdered deterrent/killer at areas near possible entries into the house for wasps. He also explained how the insects were behaving and why the application was effective. I very much appreciated the fast and efficient service which killed all of the wasps which were preparing for yet another attack inside the home.
I was having a problem with bees in my gutter, under my roof. My son called Little Giant Beekeepers one evening and spoke to Missy. The very next day Manual came out. He called me on root and was on time. He explained everything. I appreciated his excellent service.